8:00am-3:00pm, Monday-Saturday
Join us on the patio, in the dining room, or at the bar for authentic sweet and savory crêpes, quiche, and freshly prepared seasonal soup, salads, and sandwiches.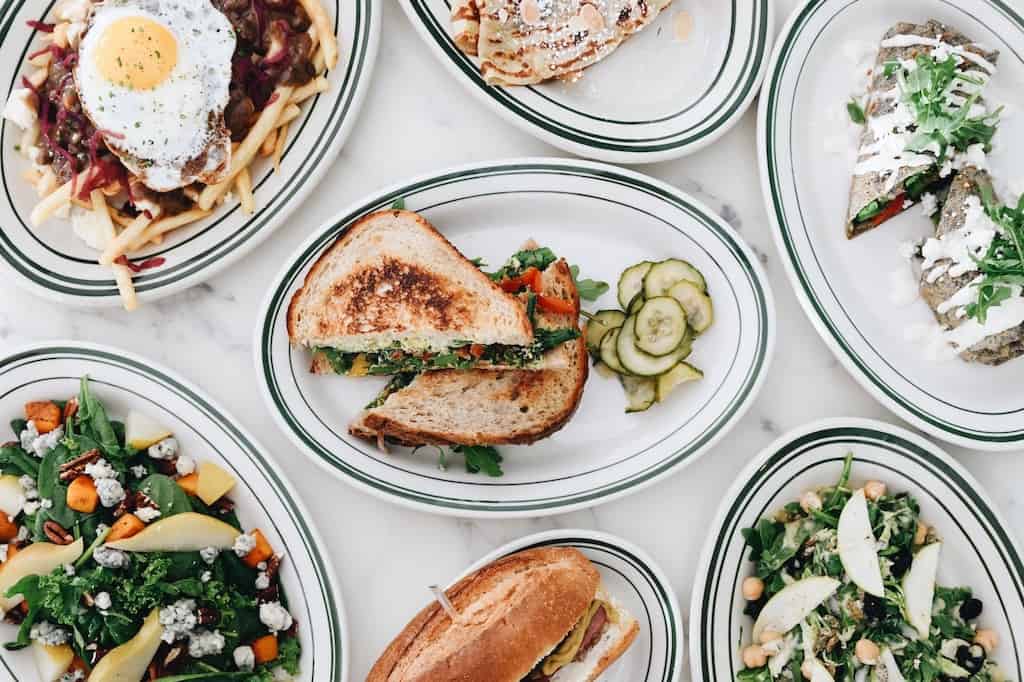 CRÊPES
GRAND-MÈRE — 10
jambon de paris ham, swiss, farm-fresh egg
ROULADE BRETONNE — 10
smoked salmon, caper remoulade,pickled red onion, arugula
POULET BECHAMEL — 10.5
chicken, mushroom, spinach, swiss cheese, cream sauce
JARDINIÈRE — 9.75
sauteed mix of broccolini, bell pepper, onion, garlic, and arugula, with swiss, goat cheese, horseradish créme
CLASSIQUE — 9
nutella, marinated strawberry, sliced banana
CITRON AMANDE — 8
lemon curd, sliced almond, creme chantilly
POMME TATIN — 8
apple compote, fleur de sel caramel
SANDWICHES
CROQUE MONSIEUR — 11.5
jambon de paris ham, béchamel, swiss, mustard, country bread (add egg for $1)
TOULOUSE SAUSAGE — 10
garlic pork sausage, boursin, dijon, cornichon, pickled mustard seed, confit onion, egg bun
HANNAH ­— 11
smoked turkey breast, pesto aioli, confit onion, boursin, swiss, country bread
REUBEN — 12
house-made corned beef, sauerkraut, swiss, thousand island, marble rye
GARDEN — 10.5
sauteed mix of broccolini, bell pepper, onion, and garlic, arugula, goat cheese pistachio spread, balsamic vinaigrette, country bread
CRAB CAKE SLIDER — 8.5 each
brioche bun, horseradish créme, arugula
QUICHE
served with mixed greens and mustard vinaigrette
QUICHE LORRAINE — 9
ham, onion, gruyere, bacon
SEASONALVEGETABLE — 8.5
SOUP DU JOUR
seasonally inspired chef's special
4.5 cup / 7 bowl
SALADS
VERTE — 5
side salad of mixed greens, arugula,pickled cucumber, mustard vinaigrette
ROASTED BEET — 6 / 10
mixed greens, mustard vinaigrette, pistachio, goat cheese
SHAVED BRUSSELS— 7 / 11
shaved brussels sprout, arugula, granny smith apple, red onion, dried cherry, chickpea, ginger-thyme vinaigrette, candied pepita
FALL SALAD — 7 / 11
kale, arugula, spinach, poached pear, roasted butternut squash,blue cheese, pecan, champagne vinaigrette
POUTINE
pomme frites, red wine sausage gravy, gouda cheese curd, red onion, sunny side up egg — 11
SIDES
BREAD & BUTTER — 3
warm french baguette
HANNAH FRIES — 4
with pesto aioli
CARROT CHICKPEA SALAD — 3.5
cumin vinaigrette
FALL BEAN SALAD — 3.5
garlic, herbs, lemon vinaigrette
This error message is only visible to WordPress admins
Error: API requests are being delayed. New posts will not be retrieved for at least 5 minutes.
FOLLOW US @FRENCHMARKETKC
VISIT
6943 TOMAHAWK ROAD
PRAIRIE VILLAGE, KS
THE SHOPS OF PRAIRIE VILLAGE
HOURS
MONDAY-SATURDAY
8AM-8PM
CLOSED SUNDAY
[WE DO NOT TAKE RESERVATIONS]

Join us for lunch and dinner just around the corner at our award-winning sister restaurant, Cafe Provence.