Join us at dinner for full dine-in service in the dining room, on the patio, and at the bar.
Enjoy fresh seasonal small plates, classic French bistro favorites, artisanal cheese and charcuterie, and a full wine, beer, and cocktail list.
Monday-Wednesday, 3-8pm
Thursday-Saturday, 3-9pm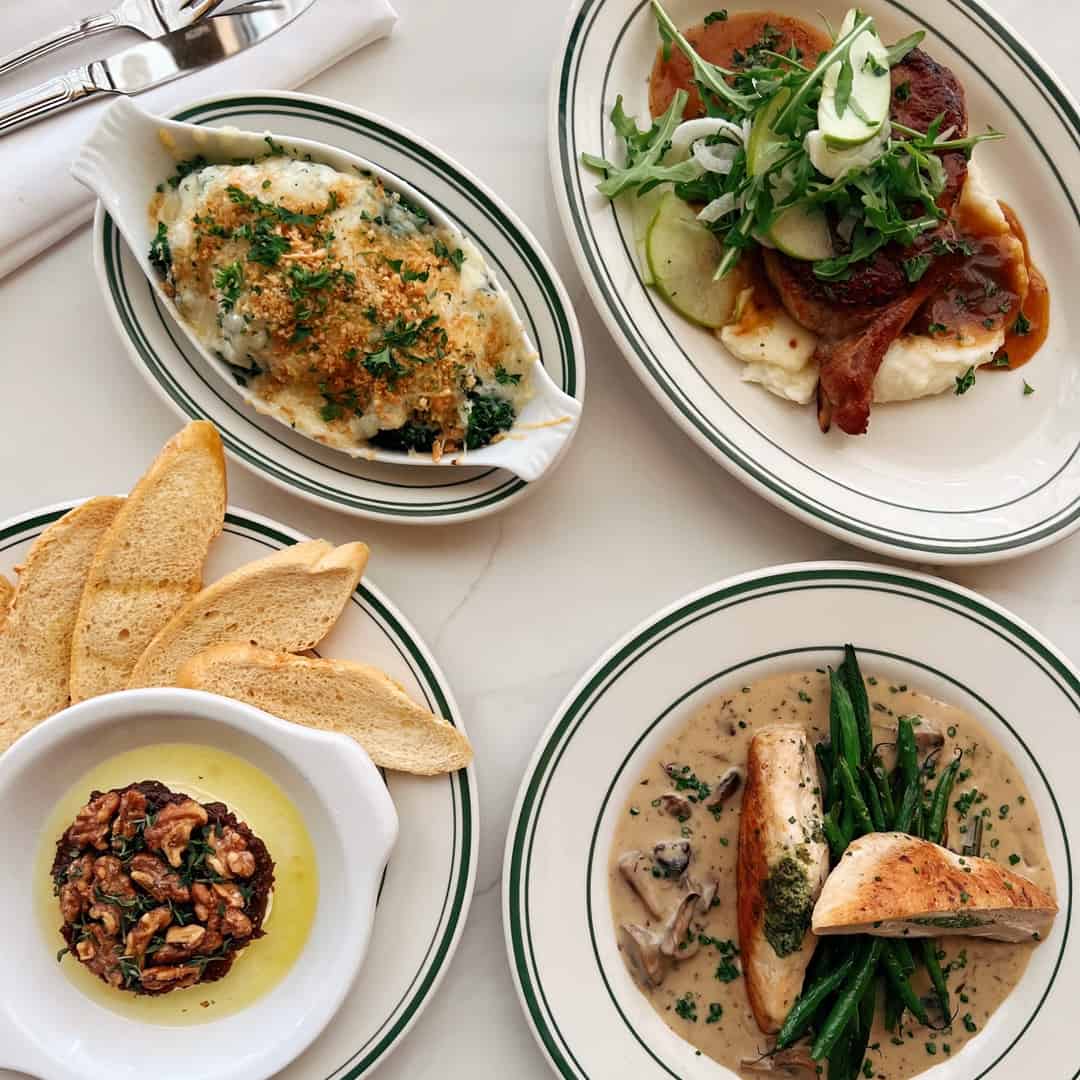 SNACKS
MARINATED OLIVES — 6
citrus, rosemary, olive oil
DEVILED EGGS — 6
smoked paprika, capers, olive oil, chives
HUMMUS — 8
olive tapenade, cucumber-tomato salad, olive oil, warm pita
CHEESE & CHARCUTERIE
 Noah's weekly selection of artisanal cured meats, house-made pates, and specialty cheeses, with seasonal accoutrement — 24
LES PLATS
SOUPE DU JOUR — 5 cup / 8 bowl
WATERMELON GAZPACHO — 10
chilled watermelon soup, summer vegetables, goat cheese, mint
BEET SALAD — 8
beet, goat cheese, pistachio, mixed greens, mustard vinaigrette
TOMATO PEACH SALAD — 13
heirloom tomato, sliced peach, red onion, feta, crouton, basil vinaigrette
RILLETTES DE SAUMON — 11
house-smoked salmon, crème fraîche, fresh herbs, olive oil, crostini
RICOTTA — 11
hand dipped ricotta, local honey, olive oil, fleur de sel, crostini
POTATO CROQUETTES — 12
potato fritters, dill aioli, parmesan, chives
DUCK MEATBALLS À L'ORANGE — 15
ground duck, sauce bigarade, carrot purée, cucumber, toasted sesame, parsley
CRAB CAKE SLIDER — 9
blue crab, horseradish crème, arugula, brioche
SEARED TUNA — 21
sushi-grade ahi tuna, spice rubbed and seared to rare, served sliced with avocado mousse, crispy rice, corn vierge, cilantro

POULET CORDON BLEU — 18
amish chicken breast, jambon de paris ham, emmental cheese, mustard cream sauce, salad verte, parsley & tarragon
CÔTELETTE DE PORC — 19
thin-cut pork chops, polenta, honey, roasted garlic, snap pea salad, balsamic reduction, parsley
STEAK FRITES — 29
seared 8oz. beef tenderloin, chimichurri, pommes frites, chives
SANDWICHES
REUBEN — 14
corned beef, sauerkraut, thousand island, swiss, marble rye
HANNAH — 12
smoked turkey, pesto aioli, confit onion, swiss, boursin, country bread
MOZZARELLA TOMATO BAGUETTE — 12
roma tomato, fresh mozzarella, pesto aioli, arugula, balsamic vinaigrette, baguette
SIDES
BREAD & BUTTER — 4
warm french baguette
HANNAH FRIES — 4
smoked paprika curry, pesto aioli
CARROT CHICKPEA SALAD — 4
cumin vinaigrette
SALAD VERTE — 4
mixed greens, pickled cucumber, mustard vinaigrette
DESSERT
CHOCOLATE HAZELNUT ENTREMET — 6
buttery chocoloate crust, milk chocolate hazelnut mousse, feuilletine
GOAT CHEESE CHEESECAKE — 3.75
pistachio crust, goat cheese filling, chantilly cream
CAKE BY THE SLICE — 5.5
ask your server for current selections
CRÈME GLACÉE & SORBET
rotating flavors of house-made ice cream
one scoop — 3.5
two scoops — 6
FOLLOW US @FRENCHMARKETKC
6943 TOMAHAWK ROAD
PRAIRIE VILLAGE, KS
THE SHOPS OF PRAIRIE VILLAGE
MONDAY-WEDNESDAY
8AM-8PM
THURSDAY, FRIDAY, SATURDAY
8AM-9PM
CLOSED SUNDAY
[WE DO NOT TAKE RESERVATIONS]

Join us for lunch and dinner just around the corner at our award-winning sister restaurant, Cafe Provence.