Join us at The Café at French Market for full dine-in service in the dining room, on the patio, and at the bar.
Enjoy fresh seasonal small plates, classic French bistro favorites, artisanal cheese and charcuterie, and a full wine, beer, and cocktail list.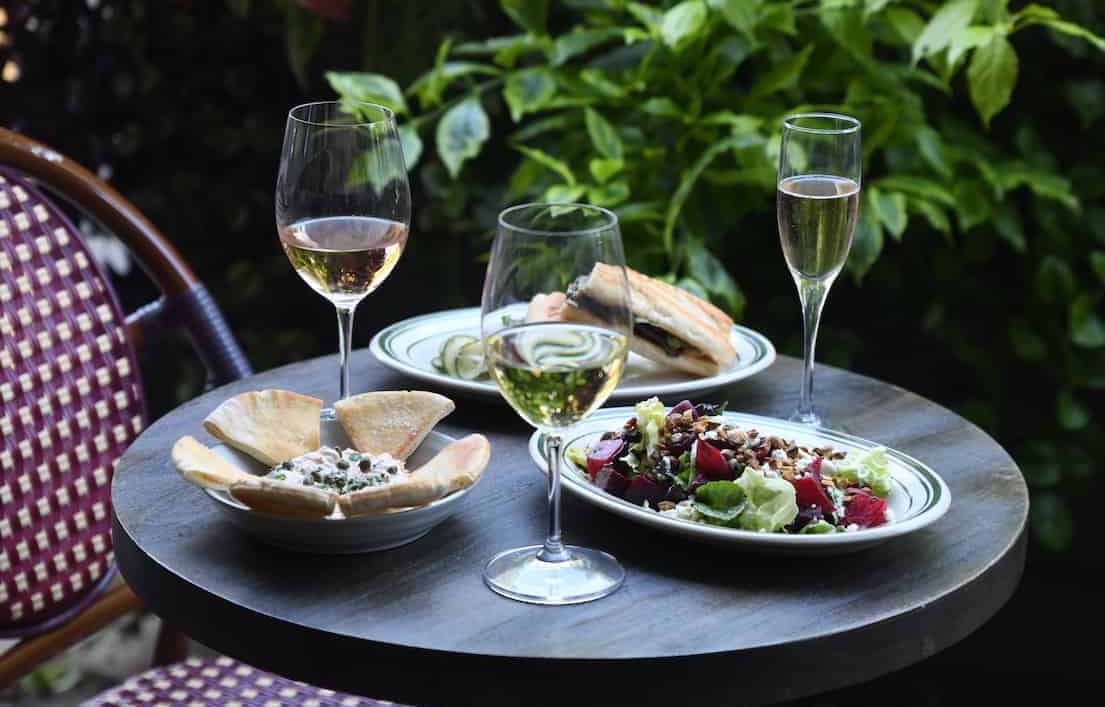 BITES TO BEGIN
$6 each. 3 for $16.
Spiced Mixed Nuts
Marinated Olives
Deviled Eggs
Stuffed Dates
CHEESE & CHARCUTERIE
 Noah's weekly selection of artisanal cured meats, house-made pates, and specialty cheeses, with seasonal accoutrement — 24
LES PLATS

SOUP DU JOUR  — 4.5/7
TOMATO PEACH — 7
heirloom tomato, peach, cucumber, red onion, basil, crouton, parmesan, basil oil, balsamic reduction
CHERRY JICAMA — 7
kale, mixed greens, cherry, jicama, red onion, feta, candied almonds, balsamic dressing
SALADE DE BETTERAVE — 6
beets, goat cheese, pistachio, mixed greens, mustard vinaigrette
RILLETTES DE SAUMON — 10
house-smoked salmon, crème fraiche, fresh herbs, crostini
ROASTED ASPARAGUS — 8
lemon herb yogurt, pickled apricots, crispy lentils
SWEET CORN AND SHISHITOS — 9
crispy sweet corn, shishito peppers, parmesan, citrus-herb aioli
HAND-DIPPED RICOTTA — 8
olive oil, honey, lemon juice, chives
CEVICHE — 14
market fish, leche de tigre, watermelon, sweet corn, red onion, jalapeño, puffed quinoa
CRAB CAKE SLIDER — 8.5
arugula, horseradish crème
TOULOUSE SAUSAGE ROLL — 10
boursin, dijon, cornichon relish, baguette
SAUMON — 18
salmon filet, chickpea fritter, mango-basil vinaigrette, pickled pineapple, arugula
POULET — 16
breaded chicken, slaw, roasted sesame vinaigrette, orange supreme, cashew
PORC — 17
grilled pork loin, sweet corn, shishito pepper, roasted garlic honey butter
STEAK FRITES — 18
seared steak, chimichurri, fries
SANDWICHES
REUBEN — 12
house-made corned beef, sauerkraut, thousand island, swiss,
mustard, marble rye
HANNAH — 11
smoked turkey breast, pesto aioli, confit onion, boursin, country bread
MOZZARELLA TOMATO BAGUETTE — 10.5
pesto aioli, arugula, balsamic vinaigrette, baguette
SIDES
baguette & butter – 3
frites hannah — 4
carrot chickpea salad — 3.5
potato salad — 3.5
FOLLOW US @FRENCHMARKETKC
VISIT
6943 TOMAHAWK ROAD
PRAIRIE VILLAGE, KS
THE SHOPS OF PRAIRIE VILLAGE
HOURS
MONDAY-SATURDAY
8AM-8PM
CLOSED SUNDAY
[WE DO NOT TAKE RESERVATIONS]

Join us for lunch and dinner just around the corner at our award-winning sister restaurant, Cafe Provence.