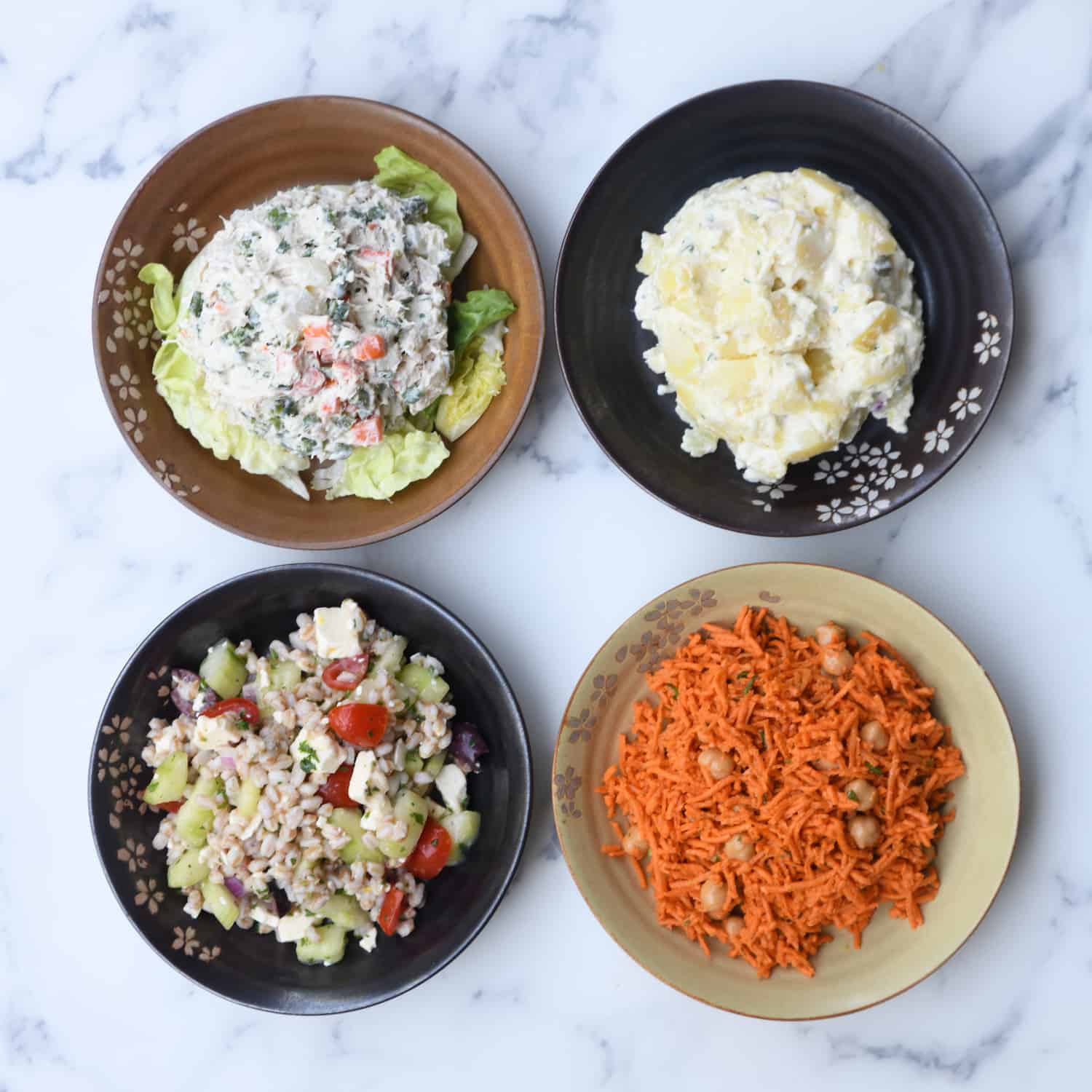 Freshly Prepared, Ready to Eat
French Market offers a variety of prepared soups, salads, sandwiches, sides, and sweet treats to enjoy at home or grab for a quick breakfast or lunch on the go. We also carry a wide selection of artisanal cheeses, charcuterie, and freshly baked breads. 
We're constantly adding new products, seasonal specials, and favorites from our Café Provence restaurant around the corner, so stop by or call to see what's cooking today.
Seasonal Selection of Grab & Go Items
Subject to change.
SOUPS
Soup du Jour
Ask about our daily selection of soups
Daniel's French Onion Soup
with emmenthal cheese, bacon, beef broth, baguette 
SALADS
Caesar Salad
Romaine lettuce, caesar blend cheese, white anchovies, herbed crouton, caesar dressing (contains anchovy)
Carrot Chickpea Salad
Grated carrot, chickpea, cumin, honey, lemon juice, olive oil, mustard dressing, parsley
Chicken Curry Salad
Chicken breast, celery, shredded coconut, grapes, curry mayonnaise, lemon juice, mixed greens
Composée Salad
Mixed greens, dates, orange slices, marcona almonds, radish, lemon vinaigrette
Marinated Beets
Marinated in red wine vinegar, olive oil, parsley, salt and pepper
Beet Salad
Golden beets, arugula, red onion, radish, goat cheese, mustard vinaigrette
Fall Bean Salad
Red kidney beans, garbanzo beans, edamame, white beans, red onion, garlic, fresh herbs, celery, butternut squash, lemon vinaigrette
Mixed Greens
Served with our signature mustard vinaigrette
Nicoise Salad
Albacore (never from a can), green beans, olives, potato, hard boiled egg, tomato, mustard vinaigrette over mixed greens
Potato Salad
Mustard, mayonnaise, shallots, herbs, capers, potato, champagne vinegar
Winter Spinach Salad
Spinach, butternut squash, pear, blue cheese, pecan, champagne vinaigrette
Tuna Salad
Fresh albacore tuna, potato, carrot, green beans, mayonnaise, lemon juice
SANDWICHES
Le Turkey
Sliced turkey, confit onions, cheddar, pine nut aioli and mixed greens
Le Parisien
Jambon de Paris ham, emmenthal cheese, butter, mixed greens
Le Nicoise Croissant
Butter croissant, our housemade tuna salad and mixed greens
Le Fermier
Roasted chicken, brie, sundried tomato aioli
QUICHE
Seasonal Variety
Lorraine
Jambon de Paris ham, caramelized onion, emmenthal cheese
Florentine
Spinach, cheddar
Mushroom Leek and Brie
Smoked Salmon and Asparagus
ENTREES
Boeuf Bourguignon
Beef tenderloin, mushrooms, carrots, caramelized onions, red wine sauce, bacon, beef, and veal stock
Cassoulet
A casserole from the south of France with duck leg, pork sausage, pork, pork stock and white beans
Chicken Bechamel Crepes
Chicken breast, chicken stock, spinach, mushrooms, bechamel cream sauce, parmesan cheese
Breakfast Casserole
Potato, ham, green onion, bell pepper, cheddar cheese, egg, cream, salt and pepper
Wild Boar Bolognese
Ground wild boar, tomato garlic sauce, with pasta
Daube Stew
Beef tenderloin, red wine, tomato, herbes de Provence, beef and veal stock, carrot
Hannah Bistro Artichoke Ravioli
Spinach artichoke ravioli, artichoke bottoms, fresh parmesan, pesto cream sauce
Cauliflower and Pasta Alfredo Gratin
Cauliflower, penne pasta, alfredo sauce, Emmentaler cheese
Salmon Dinner
Pan seared Atlantic salmon with herb butter, haricots verts, rice pilaf, shallot and tomato confit
Three Meat Lasagna
With veal, pork, beef, parmesan, ricotta, boursin cheese, garlic, onion, celery
Chicken Scaloppini
Sautéed chicken breast with butter, lemon, caper, veal stock
Meatball Stroganoff
Beef meatballs with red wine mushroom sauce and grated Marcoot Heritage cheese. Served over pasta.
Stuffed Shells
Kale, parmesan cheese, ricotta cheese, mozzarella cheese, tomato cream sauce, mushroom
Lamb Shepherd's Pie
Ground lamb, onions, carrot, garlic, parmesan, puree potato, Worcestershire sauce, tomato sauce, chicken and veal stock, rosemary
Broccolini and Cheddar Risotto
Broccolini, risotto, cheddar cheese, vegetable stock, onion, parmesan cheese, salt, pepper.
Jambalaya (Vegan) 
Onion, celery, green bell pepper, tomato, carrot, rice, garbanzo beans, parsley, cilantro, spices. Vegan.
SIDES
Chicken Side
Grilled chicken breast seasoned with salt and pepper, paprika, herbes de provence
Salmon Side
Pan seared Atlantic salmon seasoned with salt and pepper
Swedish Meatballs
Ground pork, ground beef, onion, parsley, gravy sauce
Macaroni & Cheese
macaroni pasta, cheddar cheese, cream milk
Tagliatelle
Side of pasta, ready to heat and serve with our boeuf bourguignon, daube stew or entree of your choice
Rice Pilaf
Long grain rice cooked in chicken stock with onion and parsley
Haricots Verts
French style green beans, simply sauteed in butter
Daniel's Potato Gratin
Thinly sliced and layered potato with garlic, cream, salt and pepper, emmenthal cheese, olive oil
DESSERTS
Croissants (almond, chocolate, butter, ham and cheese)
Cookies (chocolate chip, peanut butter, oatmeal chocolate chip)
Lemon meringue tarts, passion fruit tarts, chocolate mousse, creme caramel and more!
FOLLOW US @FRENCHMARKETKC
6943 TOMAHAWK ROAD
PRAIRIE VILLAGE, KS
THE SHOPS OF PRAIRIE VILLAGE
MONDAY-WEDNESDAY
8AM-8PM
THURSDAY, FRIDAY, SATURDAY
8AM-9PM
CLOSED SUNDAY
[WE DO NOT TAKE RESERVATIONS]

Join us for lunch and dinner just around the corner at our award-winning sister restaurant, Cafe Provence.