8:00-11:00am, Monday-Saturday
Join us in the morning for freshly baked pastries, authentic sweet and savory crêpes, quiche, hot croissant breakfast sandwiches, croque monsieur, coffee, tea, and more.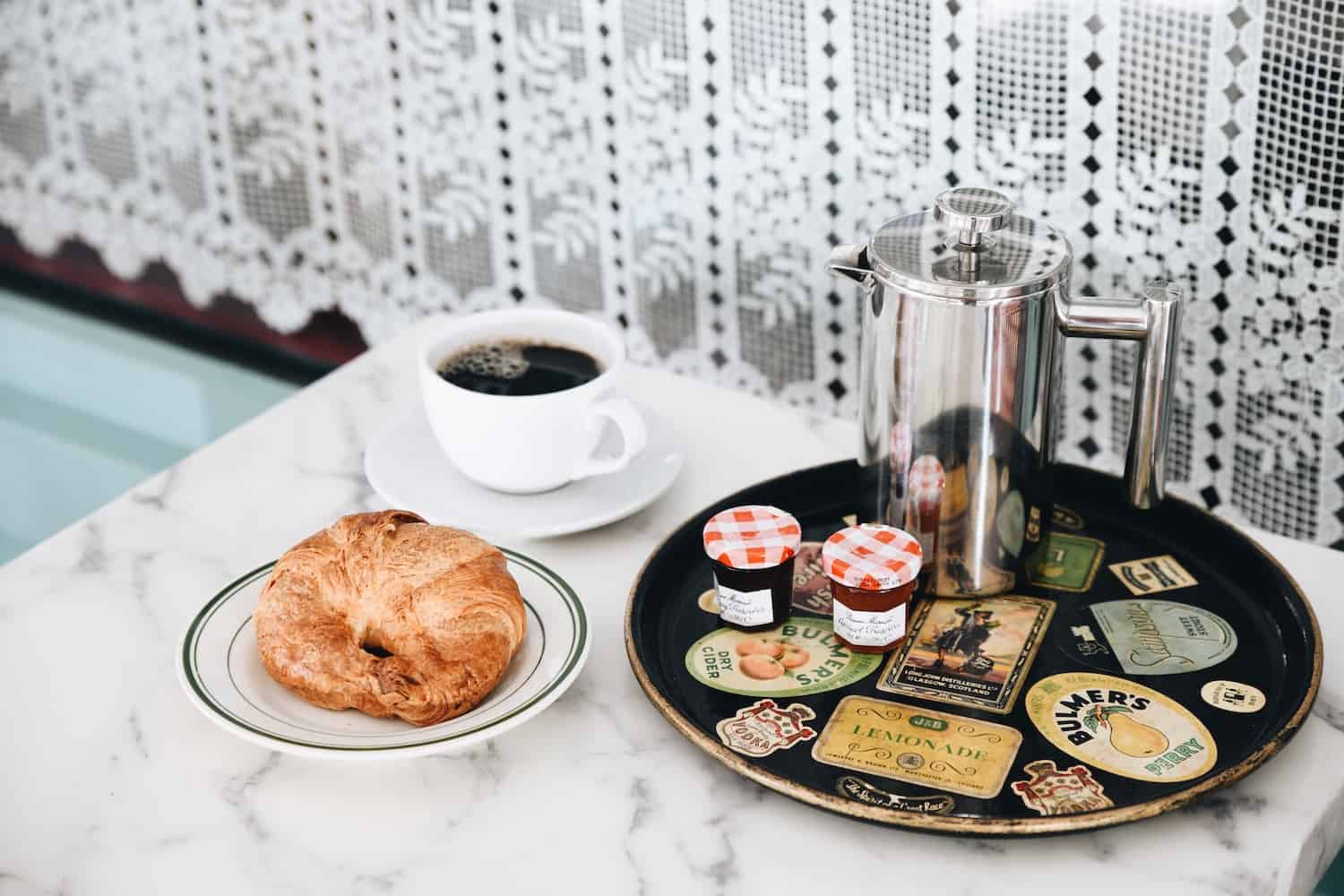 CRÊPES
GRAND-MÈRE — 10
jambon de paris ham, swiss, farm-fresh egg
ROULADE BRETONNE — 10
smoked salmon, caper remoulade,pickled red onion, arugula
POULET BECHAMEL — 10.5
chicken, mushroom, spinach, swiss cheese, cream sauce
JARDINIÈRE — 9.75
sauteed mix of broccolini, bell pepper, onion, garlic, and arugula, with swiss, goat cheese, horseradish créme
CLASSIQUE — 9
nutella, marinated strawberry, sliced banana
CITRON AMANDE — 8
lemon curd, sliced almond, creme chantilly
POMME TATIN — 8
apple compote, fleur de sel caramel
SANDWICHES
BREAKFAST CROISSANT — 9
scrambled egg, cheddar cheese, choice of bacon or house-made sausage
VEGETABLE CROISSANT — 8.5
scrambled egg, cheddar, arugula, sauteed mix of broccolini, bell pepper, onion, garlic
CROQUE MONSIEUR — 11.5
jambon de paris ham, béchamel, swiss, mustard, country bread (add egg for $1)
QUICHE
served with mixed greens and mustard vinaigrette
QUICHE LORRAINE — 9
ham, onion, gruyere, bacon
SEASONALVEGETABLE — 8.5
This error message is only visible to WordPress admins
Error: API requests are being delayed. New posts will not be retrieved for at least 5 minutes.
FOLLOW US @FRENCHMARKETKC
VISIT
6943 TOMAHAWK ROAD
PRAIRIE VILLAGE, KS
THE SHOPS OF PRAIRIE VILLAGE
HOURS
MONDAY-SATURDAY
8AM-8PM
CLOSED SUNDAY
[WE DO NOT TAKE RESERVATIONS]

Join us for lunch and dinner just around the corner at our award-winning sister restaurant, Cafe Provence.